Accident of F-111 (70-2377)
Know something else about this?
Contact ISBuC today by phone on (01470) 552223
or email
info@isbuc.co.uk
and tell us.
Loch Coruisk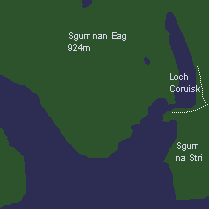 People
Accident of F-111 (70-2377)
Walks
..
Loch Coruisk 3
At about 8 pm on the night of 7 December
1982
after descending to about 1000ft over Loch Scavaig, an F-111F aircraft struck the southern face of the 1620 foot peak Sgurr na Stri, Strathaird*. The unarmed aircraft, serial number 70-2377, was on a regular training mission from RAF Lakenheath in Suffolk.
We received these details from an ISBuC site visitor who attended the scene as an accident investigator with the aircraft's manufacturer. Accompanied by the local Mountain Rescue Team he and a team of engineers and USAF officers made repeated trips to the accident site in a heavy-lift helicopter specially flown in from a US Army base at Sembach in Germany. They stayed in the
Broadford
Hotel, which was opened out-of-season especially to accommodate them.
The pilot in the left hand seat of the aircraft was Major (Lt Col. selectee) Burnley L. ("Bob") Rudiger Jr., aged 37, from Norfolk, Virginia. Major Rudiger was survived by a wife and two children who were then resident at Risby, Suffolk.
The weapons system operator in the right seat was 1st Lt. Steven J. Pitt, 28, from East Aurora, New York. Lt. Pitt was survived by a wife and two children, then resident at Icklingham, Suffolk.
* The Strathaird estate was at the time owned by
Ian Anderson
otherwise more famous as the lead singer and flautist of the rock group Jethro Tull.
Courtesy of Geoff Holman