Flt Lt Robin David Green
'Hawker Hunter'
Know something else about this?
Contact ISBuC today by phone on (01470) 552223
or email
info@isbuc.co.uk
and tell us.
Bla Bheinn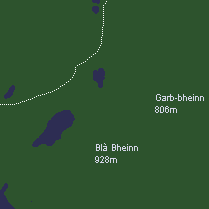 People
Flt Lt Robin David Green
Walks
..
Loch Coruisk 2
One of three military aircraft known to have come to grief on Skye was Hawker Hunter FGA9, registration XK151, piloted by Flt Lt Robin David Green.
The aircraft was on a low level training sortie in February
1980
from No 2 TWU at RAF Chivenor in North Devon when it crashed on Blaven, which was obscured by low cloud at the time according to one report.
We remember Flt Lt Green who was sadly killed. (Thanks to Martin Sutton for details)
Courtesy of Geoff Holman