Aird of Sleat Area
Know something else about this area?
Contact ISBuC today by phone on (01470) 552223
or email
info@isbuc.co.uk
and tell us about it.
'Away to Rhum'
Aird of Sleat
Area Information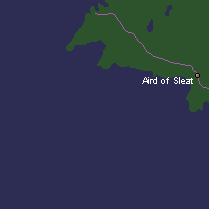 AIRD OF SLEAT
(Gaelic: Point) of (Norse: Level plain)
The word 'aird' describes a projecting piece of land, the name Sleat also refers to the whole of the peninsula.
Skyes' most southerly fort, Dun Ban was situated on a piece of rock, about 15m from the shore near here. The site is connected to land by a narrow causeway of rock.
The Aird of Sleat is a crofting township with fine views of the mainland and the Small Isles. A number of short walks can be enjoyed in this area. There are several sheltered forestry tracks just to the north of the township, and a two mile track leads to the lighthouse at the Point of Sleat.