Borve Area
Know something else about this area?
Contact ISBuC today by phone on (01470) 552223
or email
info@isbuc.co.uk
and tell us about it.
'Back to Borve'
Borve
Area Information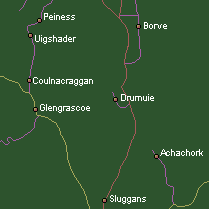 ACHACHORK
(Gaelic: Oat field)
BORVE
(Norse: Little Fort)
Five miles north of Portree, on the road to Uig, Borve stands near the turn off for Dunvegan. There are three standing stones, within a short distance of each other, alongside the road running through the township. Near the bottom of the ridge leading up to Bealach a Chaol-reidh (395m) are the remains of a broch, Dun Borve.
COULNACRAGGAN
(Norse: Within the rocks)
DRUMUIE
(Gaelic: Yellow ridge)
GLENGRASCOE
(Norse: Rugged faced glen)
PEINESS
(Gaelic: Stream hill)
SLUGGANS
(Gaelic: River gorges)
UIGSHADER
(Norse: Bay settlement)