Colbost Area
Know something else about this area?
Contact ISBuC today by phone on (01470) 552223
or email
info@isbuc.co.uk
and tell us about it.
'Islands in Loch Dunvegan'
Colbost
Area Information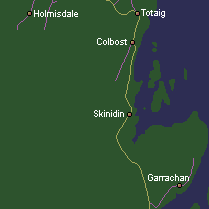 COLBOST
(Norse: Cold place)
Up until the early 1900's the bulk of Colbost's provisions were delivered by sea. A steam boat from Glasgow used to anchor in Loch Dunvegan and local men would row out to fetch and deliver supplies.
GARRACHAN
HOLMISDALE
(Norse: Low land)
SKINIDIN
(Norse: withered grass dun)
TOTAIG
(Gaelic: Ruin bay)