Drinan Area
Know something else about this area?
Contact ISBuC today by phone on (01470) 552223
or email
info@isbuc.co.uk
and tell us about it.
'Shore at Kilmarie'
Drinan
Area Information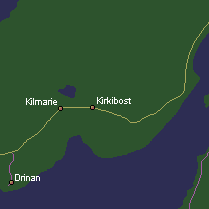 DRINAN
(Gaelic: Blackthorn thicket)
KILMARIE
(Gaelic: Mary's cell, church or chapel)
KIRKIBOST
(Norse: Settlement church)
Norse invaders who had converted to Christianity came to this area and built a church. Three quarters of a mile away on the shore the ruins of Dunringell Castle are within easy walking distance.