Dunan Area
Know something else about this area?
Contact ISBuC today by phone on (01470) 552223
or email
info@isbuc.co.uk
and tell us about it.
'South along Loch na Cairidh'
Dunan
Area Information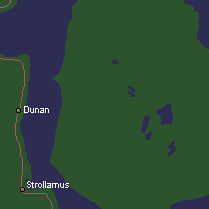 DUNAN
(Gaelic: Little fort)
Dunan is situated on the shore of Loch na Cairidh, more a channel than a loch, which separates the island of Scalpay from the mainland of Skye.
STROLLAMUS
(Norse: Stroli's moorland)