Dunvegan Area
Know something else about this area?
Contact ISBuC today by phone on (01470) 552223
or email
info@isbuc.co.uk
and tell us about it.
'Dunvegan'
Dunvegan
Area Information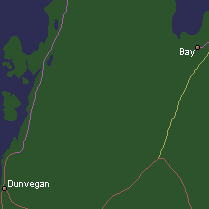 DUNVEGAN
(Gaelic: Little Fort)
This is the largest town on the west of Skye. It has a range of shops, accommodation and places to eat. Many visitors come to Dunvegan in order to visit the castle, thought to be the oldest inhabited castle in Scotland.
BAY
The small settlement nestled beside the Bay River which feeds in to the head of Loch Bay.
The Fairy Bridge, in Gaelic
'Beul-Ath nan Tri Allt'
meaning 'The Ford of the Three Burns', is at the junction of the main road with the turning for Waternish.