Edinbane Area
Know something else about this area?
Contact ISBuC today by phone on (01470) 552223
or email
info@isbuc.co.uk
and tell us about it.
'Edinbane across Loch Greshornish'
Edinbane
Area Information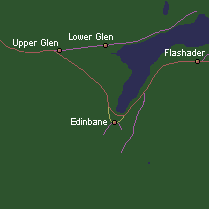 EDINBANE
(Gaelic: White face or slope)
Situated at the head of Loch Greshornish, Edinbane sits two thirds of way between Portree and Dunvegan. The first Skye hospital was built here.
FLASHADER
(Gaelic: Flat pasture)
LOWER GLEN
UPPER GLEN