Glenmore Area
Know something else about this area?
Contact ISBuC today by phone on (01470) 552223
or email
info@isbuc.co.uk
and tell us about it.
'West to Loch Duagrich'
Glenmore
Area Information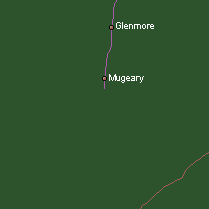 GLENMORE
(Gaelic: Big glen)
100m up from the valley floor and nestling against the south-west facing side of Skriaig (396m) is the little community of Glenmore. A footpath from here climbs east up and over Bealach Mór then down and north through Portree Forest to Portree.
MUGEARY
(Norse: Dark field)
Effectively the end of the track, the few buildings at Mugeary sit near the foot of Stroc-bheinn (400m) and look across to the forested slopes of Druim na Criche.