Grealin Area
Know something else about this area?
Contact ISBuC today by phone on (01470) 552223
or email
info@isbuc.co.uk
and tell us about it.
'Lealt Falls and Gorge'
Grealin
Area Information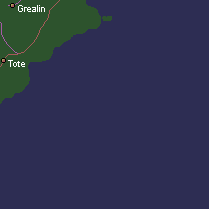 GREALIN
TOTE
(Gaelic: Ruin)
On the shore to the south of Tote is a huge boulder known locally as 'Eaglais Bhreugach' (False Church). It is roughly 40ft high and 120ft round and has a large opening like a door in one side which helps add to its church-like appearance. It is said that this was once the site of Devil worship and foul deeds carried out by a tribe of thieves who inhabited a cave further to the south.