Heast Area
Know something else about this area?
Contact ISBuC today by phone on (01470) 552223
or email
info@isbuc.co.uk
and tell us about it.
'Across Loch Eishort'
Heast
Area Information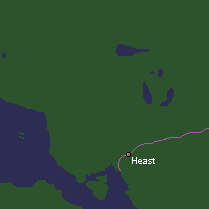 HEAST
Roughly 6 miles from the main road at Broadford, where the road ends, you come to Heast township and its island, Eilean Heast. 2 miles walk heading west, along the coast overlooking Loch Eishort, you find the deserted village of Boreraig. A victim of the clearances, this village never recovered.