Kyleakin Area
Know something else about this area?
Contact ISBuC today by phone on (01470) 552223
or email
info@isbuc.co.uk
and tell us about it.
'Castle Maol'
Kyleakin
Area Information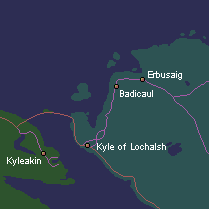 KYLEAKIN
(Gaelic: Straits of Haakon)
Named after the 120 strong fleet of the Norse King 'Haakon' or 'Haco' moored here in 1263 before a disastrous attack on mainland Scotland at Largs.
A Norwegian princess, 'Saucy Mary', wife of a MacDonald Chief, would charge a toll to any boats using the narrow channel. A chain was hung from 'Castle Maol', now a ruin, to the mainland to prevent unpaid crossings.
This is the closest settlement on Skye to the mainland and is the main crossing point. In recent years the ferry was replaced by the infamous bridge, now FREE.
In the 19th Century Lord MacDonald conceived a plan to develop Kyleakin into a large, luxurious town. The plans were never realised, they were too extravagant for the economy of Skye to have supported.
Kyleakin today is a pleasant town with a good range of places to stay and eat. Buses are available to other parts of Skye and to the mainland.