Luib Area
Know something else about this area?
Contact ISBuC today by phone on (01470) 552223
or email
info@isbuc.co.uk
and tell us about it.
'At the head of Loch Ainort'
Luib
Area Information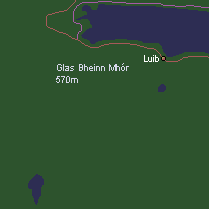 LUIB
(Gaelic: Bends)
Luib stands on the banks of Loch Ainort surrounded by the Red Cuillins stretching clockwise from the south-east to the north-west. The closest peak is Glas Bheinn Mhór to the south standing at 570 meters.