Milovaig Area
Know something else about this area?
Contact ISBuC today by phone on (01470) 552223
or email
info@isbuc.co.uk
and tell us about it.
'Footpath to Neist Point'
Milovaig
Area Information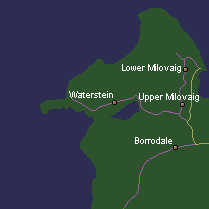 BORRODALE
(Norse: Castle Dale)
LOWER MILOVAIG
(Norse: Small Hill)
UPPER MILOVAIG
WATERSTEIN
(Norse: Water Stone)
At the end of the road through Waterstein you meet the track leading to the most westerly point on Skye, Neist
(Gaelic: Horse-shaped)
Point. The lighthouse here was erected in 1908 and manned until 1989 when it became automated. It is situated near very high and steep cliffs and overlooks Moonen Bay to the south-east. On a clear day the panoramic view of the Outer Hebrides, stretching from the north to the south-west, is stunning.