Ose Area
Know something else about this area?
Contact ISBuC today by phone on (01470) 552223
or email
info@isbuc.co.uk
and tell us about it.
'North'
Ose
Area Information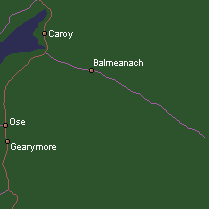 BALMEANACH
(Gaelic: Middle town)
The track through here carries on for several miles heading east through Glen Vic Askill and then north-east through conifer plantation.
CAROY
(Gaelic: Red rock)
Near the turning for Balmeanach are the remains of a Broch and, a little further on, a road leads to a slipway giving access to Loch Caroy.
GEARYMORE
(Gaelic: Big pasture)
OSE
(Gaelic: River mouth)