Roag Area
Know something else about this area?
Contact ISBuC today by phone on (01470) 552223
or email
info@isbuc.co.uk
and tell us about it.
'Ardroag to the Cuillins'
Roag
Area Information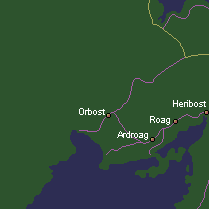 ARDROAG
(Norse: Noisy point)
This settlement is partly based on a peninsula, attached to mainland Skye by a small strip of land.
HERIBOST
(Norse: Upper town)
ORBOST
(Norse: Oris' town)
Dominating the view to the east are two flat topped hills known as MacLeod's Tables (North & South). The north stands at 469 meters and the south at 488 meters.
ROAG
(Norse: Noisy place)
Over looking Loch Bracadale, Roag affords marvelous views of the area.