Sconser Area
Know something else about this area?
Contact ISBuC today by phone on (01470) 552223
or email
info@isbuc.co.uk
and tell us about it.
'Peinchorran across from Sconser pier'
Sconser
Area Information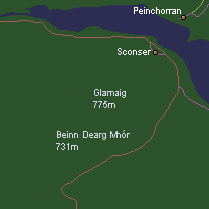 PEINCHORRAN
(Norse: Point penny land)
SCONSER
A small car-ferry operates from Sconser pier out to Suisnish Point on Raasay. Glamaig
(Gaelic: Greedy female)
, one of the Red Cuillins and rising to 775 meters, stands immediately to the west.