Staffin Area
Know something else about this area?
Contact ISBuC today by phone on (01470) 552223
or email
info@isbuc.co.uk
and tell us about it.
'North over Staffin'
Staffin
Area Information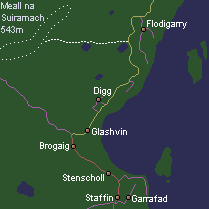 Walks
--
Loch Langaig and Loch Harsco
..
The Quiraing 2


BROGAIG
(Norse: Burgh bay)
DIGG
(Norse: Ditch or dyke)
William MacKensie, author of a book on Trotternish, tells of a Digg crofter who "got all his work done by the Flodigarry fairies. He was at a loss how to get rid of them. A neighbour told him to give them a seive and order them to bale the sea."
FLODIGARRY
(Norse: Floating or flock enclosure)
The cottage standing next to the hotel is said to have been the home of Flora MacDonald, though this is disputed. She lived in Flodigarry for a number of years, and 5 of her 7 children were born here.
GARRAFAD
(Gaelic: long wall or dyke)
GLASHVIN
(Gaelic: green penny land)
STAFFIN
(Norse: Rock pillar place)
Home of one of the few sandy beaches and the only laundrette on the north end.
STENSCHOLL
(Norse: Stone slope)