Isle of Skye Business Community (ISBuC)
The independent guide to Skye and Raasay
The Isle of Skye Business Community (ISBuC) web-
site contains a wide variety of information about the
Isle of Skye and the Island of Raasay, from the
practical and informative to the bizarre and fanciful.
Your Place
Area Information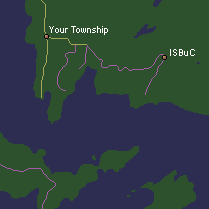 Your Business in our Business Index
Your Property in our Property Index
Your local Sights attracting visitors
Your local Walks attracting visitors


Whether you are a tourist searching for a new holiday destination or a local in need of practical information, the ISBuC web-site has something for every Skye enthusiast.
Skye and the Island of Raasay can be found nestling on the rugged north-west coast of the Highland region of Scotland, part of an island chain known as the Inner Hebrides. Skye is famed for it's rugged beauty, dramatic history and diverse wildlife. If you're planning a holiday on the Isle of Skye and need to find a place to stay, visitor attractions, a good restaurant and somewhere to shop for gifts then the Isle of Skye Business Community web-site is the ideal place to start. Our Island Guide allows you to explore Skye and Raasay from top to toe, travelling from Kyleakin to Uig and Staffin, Portree to Dunvegan and Broadford to Sleat. Explore the incredible variety of places that make the Isle of Skye and the Island of Raasay so memorable and popular with visitors from around the world.
Free to advertise.
Businesses and property based on Skye or Raasay are advertised FREE on ISBuC. Interested?
Contact
us.
Feel free to look around.
Our site can be explored in a number of ways. For your convenience it has been divided into several categories or sections accessed by the Menu button, top left.
The buttons across the top of each page are there to help you browse our site. The top right group are useful shortcuts. The panel between the buttons shows you which section your are in. This is the welcome page so you haven't chosen a section yet.
Help
, top right, is a quick guide on how to find your way around our site. Our Search facility, also top right, can help you find what you're looking for.
Pages associated with particular places include an area panel, upper right, showing a close-up map and links to other pages associated with the area. The small map, upper left, indicates the areas position in Skye or Raasay. One click on the small map reveals a larger map that lets you explore Skye and Raasay by clicking on different areas.
ISBuC (v7) is constantly being improved and updated. Any suggestions?