Crew of B-17-C Flying Fortress (44-83325)
Know something else about them?
Contact ISBuC today by phone on (01470) 552223
or email
info@isbuc.co.uk
and tell us.
Beinn Edra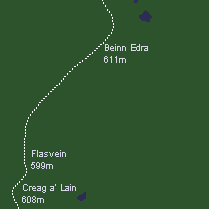 People
Crew of B-17-C Flying Fortress
Walks
--
The Trotternish Ridge 2
Just after 1 p.m. on March 3,
1945
the inhabitants north of
Staffin
on Trotternish heard an aircraft approaching over the Minch from the North. Conditions were poor with cloud base at 800ft, five-mile visibility and rain squalls.
The aircraft was a B-17-C Flying Fortress, of the US Army Air Force, tail no. 44-83325, which had originally taken off from Bangor, Maine and was destined for Gioia del Colle, Italy, for operations in North Africa. This leg of the long journey was from Meeks Field (now Iceland's Keflavik Airport) to RAF Valley on the Isle of Anglesey in Wales.
For the people of Skye the engine sound would have been nothing out of the ordinary as the route via Greenland, Iceland and then down the UK's east coast had become a busy ferry and supply run during the war. To more acute ears, however, the aircraft's low altitude might have raised concern. Having followed the coast a little way the craft turned inland and shortly after there was the sound of an impact and fire was seen to roll down the precipitous eastern side of Ben Edra, 2,000 ft. In a difficult operation mounted from the gentler Western flank of the ridge the bodies of the crew were recovered. The aircraft was totally destroyed, although traces remain to this day.
We list the names of the crewmembers in tribute:
Pilot: Lt. Paul M. Overfield Jr.
Co-Pilot: Lt. Leroy E Cagle
Navigator: Charles K Jeanblanc
Flight Engineer: Harold D. Blue
Radio Operator: Arthur W. Kopp Jr.
Gunners:
Harold A. Fahselt
John H. Vaughan
George S. Aldrich Jr.
Carter D. Wilkinson
Courtesy of Geoff Holman