David Portree
'Astro Nut'
Know something else about him?
Contact ISBuC today by phone on (01470) 552223
or email
info@isbuc.co.uk
and tell us.
Portree
Area Information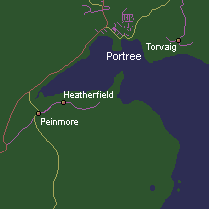 People
David Portree


ISBuC hadn't heard of Portree used as a surname before so when a leading American science writer called David Portree showed up on an Internet search we were intrigued enough to find out more.
It turns out that David holidayed in Skye back in
1983
and much enjoyed his 21st birthday cycling around Trotternish. The need to change his name had arisen and he decided Portree would be appropriate. We think it makes a really cool surname, David, and we hope you create a new dynasty!
David, who freelances from his home office in Houston, Texas, has written and broadcast on hundreds of science topics -- as diverse as metallic hydrogen at Jupiter's core, antimatter galaxies and the nesting habits of dinosaurs. As well as writing scripts for Earth & Sky radio which is widely networked on Voice of America, in the summer of
2000
he was the Earth and Sky/ NASA Broadcast Fellow at NASA's Goddard Space Flight Center, Greenbelt, Maryland.
The photograph shows David Portree (left) covering the first field trial of a NASA space suit for 30 years. Dean Eppler is wearing the suit and the lady on the right is photographer Raechel Running.
Courtesy of Geoff Holman