Portree Area
Know something else about this area?
Contact ISBuC today by phone on (01470) 552223
or email
info@isbuc.co.uk
and tell us about it.
'Portree Harbour'
Portree
Area Information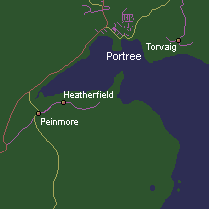 People
David Portree


HEATHERFIELD
PEINMORE
(Gaelic: Big penny land)
PORTREE
(Gaelic: King's port)
The capital and largest settlement of Skye. The name means Kings Harbour. Originally known as
Kiltaraglen
(Gaelic: Chapel at foot of glen)
it was renamed after King James V who paid a special visit to meet with the clan chiefs here in 1540.
Portree is a good base from which to explore the island, most areas of interest being within an hours drive. Buses travel in most directions, the bus stand in Somerled Square has timetable details. Food and accommodation to fit all budgets can be found in Portree.
TORVAIG
(Norse: Hill or Thor's bay)