Somhairle MacGill-Eain, Sorley MacLean
(
1911
-
1996
)
Know something else about him?
Contact ISBuC today by phone on (01470) 552223
or email
info@isbuc.co.uk
and tell us.
Braes
Area Information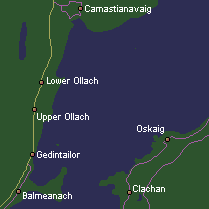 People
Somhairle MacGill-Eain
Born in Osgaig, Raasay, on October 26th
1911
Sorley MacLean was probably the greatest and most influential Gaelic poet of the 20th century.
Gaelic his first language he began to learn English when he started school at the age of 6. After his schooling in Portree, Skye, he studied English Literature at Edinburgh University. His first poetry was written in English whilst a student. He then worked as a teacher in Mull, Ross, Skye and Edinburgh, finally becoming Headmaster in Plockton.
Through his poetry the Gaelic language, regarded at the time as outmoded and dying, was revealed to the world as powerfully expressive and many feel that its renaissance is directly attributable to his influence. His work explored themes as diverse as Skye, the Celts, politics, wildlife, Socialism, the Clearances, love and war (he fought in Africa during World War II).
He died in
1996
and was buried on the island of Raasay next to one of his daughters who had died three years previously.