Braes Area
Know something else about this area?
Contact ISBuC today by phone on (01470) 552223
or email
info@isbuc.co.uk
and tell us about it.
'Gedintailor to Camastianavaig'
Braes
Area Information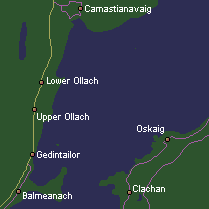 People
Somhairle MacGill-Eain
BRAES
This district, six miles south-east of Portree, is the site of the last battle to be fought on British soil. In the 1880's local tenants were facing a rent increase and, as their lease on the land was about to expire, they ageed to pay the higher rate. However their landlord had other plans for the land and decided not to renew their lease.
The local inhabitants had long been forbidden from grazing their sheep on the shores of Ben Lee. Enraged by the attempt to throw them off the land they took direct action, releasing their livestock onto the forbidden slopes. The Sherrifs officer was despatched from Portree to evict the leading dissidents. He and his assistant were met by a mob of angry Braes folk who forced him to burn the eviction notices.
Subsequently a band of 50 Glasgow policemen were sent to Skye to quell the Braes rebellion. They were greeted by 100 men, women and children, armed with sticks and stones. The battle which followed lead to the conviction of a number of Braes crofters, and as a direct result of the unrest in this area, a commision was set up to investigate the grievances of crofters.
BALMEANACH
(Gaelic: Middle settlement)
CAMASTIANAVAIG
(Norse: Shelter bay)
CLACHAN
Raasay
(Gaelic: Small settlement)
Between the late 17th century and the middle of the 18th century the Clan MacCleod's main residence was in a house, in the form of a three storey tower, at Clachan. Records show this tower standing as long ago as 1549.
GEDINTAILOR
(Gaelic: Fish curers place)
LOWER OLLACH
(Gaelic: poor grass?)
OSKAIG
Raasay
(Norse: River mouth)
Birth place of Somhairle MacGill-Eain (Sorley MacLean) the world famous Gaelic poet.
UPPER OLLACH