Brochel Area
Know something else about this area?
Contact ISBuC today by phone on (01470) 552223
or email
info@isbuc.co.uk
and tell us about it.
'Malcolm MacLeod's Memorial'
Brochel
Area Information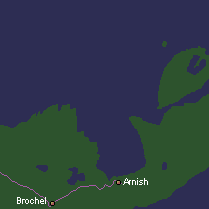 Sights
Brochel Castle


ARNISH
(Norse: Eagle's point)
This is the most northerly settlement on Raasay approachable by road. By the road between Arnish and Brochel stands a memorial to a man who could be said to epitomise single minded determination. The inscription reads:
CALUM'S ROAD This former footpath to Arnish - a distance of 1¾ miles -was widened to a single track road with passing places and prepared for surfacing by Malcom MacLeod, B.E.M.(1911 - 1988) South Arnish. He accomplished the work single handedly over a period of ten years
BROCHEL
(Norse: Rock fort)
Brochel Castle stands overlooking a bay on the eastern side of the Isle of Raasay.