Brochel Castle
'Rock Fort'
More sights we should see?
Contact ISBuC today by phone on (01470) 552223
or email
info@isbuc.co.uk
and show us.
Brochel
Area Information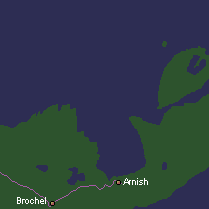 Sights
Brochel Castle


One time seat of the MacLeods of Raasay, the castle was destroyed by the Hanoverians sometime after
1745
to punish the Macleods for siding with the Jacobites. It is said that the castle could accommodate 80 people, in comfort we assume.