Treaslane Area
Know something else about this area?
Contact ISBuC today by phone on (01470) 552223
or email
info@isbuc.co.uk
and tell us about it.
'South-east along Loch Snizort'
Treaslane
Area Information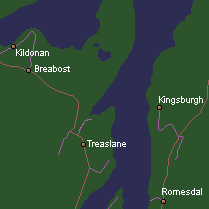 Sights
Hugh's Castle


BREABOST
(Norse: Broad farm)
KILDONAN
(Gaelic: Donan's cell, church or chapel)
KINGSBURGH
Originally established on the shores of Loch Snizort to collect taxes from passing vessels. Bonny Prince Charlie slept here in Kingsburgh House on 29th June 1746.
ROMESDAL
(Gaelic: Giant's dale)
TREASLANE
(Norse: Battle field)