Hugh's Castle
'Caisteal Uisdean'
More sights we should see?
Contact ISBuC today by phone on (01470) 552223
or email
info@isbuc.co.uk
and show us.
Treaslane
Area Information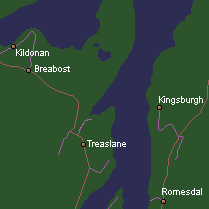 Sights
Hugh's Castle


Built by Hugh MacDonald, cousin to Donald Gorm Mor of Duntulm Castle. The substantial and unusual remains of Hugh's Castle has no door and one very narrow window at ground level. Access was gained by ladder. There must always have been somebody home.
Hugh MacDonald met a particularly grisly death in the dungeon of Duntulm Castle. He rather incompetently tried to have his cousin murdered. He wrote two letters, one inviting his cousin to a meal and another hiring an assasin to come and kill him. Unfortunately he got the letters mixed up.
Hugh ended his days going mad from thirst, having been incarcerated with only salt beef to sustain him.