Uig Area
Know something else about this area?
Contact ISBuC today by phone on (01470) 552223
or email
info@isbuc.co.uk
and tell us about it.
'Uig Bay'
Uig
Area Information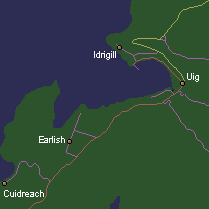 Business
Ella's Café
The Sheiling - Market, Café, Venue
People
Claude Augustus Lillingston
Sights
Viking Graveyard


CUIDREACH
(Norse: Place of power)
EARLISH
(Norse: Strife place)
IDRIGILL
(Norse: Hill or ravine)
There are a number of B&Bs in this township, which is also a convenient place to stay before catching the outer islands ferry or as a base for exploring the North end.
UIG
(Norse: Bay)
In 1877 a great flood, caused by an unusually heavy rainfall, burst the banks of the two rivers which run to the bay. The Conan and Rha joined and the force of the flood swept away the local graveyard and the estate factor's lodge. The caretaker was killed.
The pier was built in 1894 and officially opened by King Edward VII in 1902. Car ferries to and from Lochmaddy (N. Uist) and Tarbert (Harris) run daily. Many vistors pass through Uig on their way to the Outer Islands. Uig is also a good base for exploring the North end. It has a range of accommodation and places to eat and other tourist services.