Viking Graveyard
'A Stern look'
More sights we should see?
Contact ISBuC today by phone on (01470) 552223
or email
info@isbuc.co.uk
and show us.
Uig
Area Information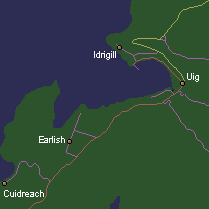 Business
Ella's Café
The Sheiling - Market, Café, Venue
People
Claude Augustus Lillingston
Sights
Viking Graveyard


South of Earlish is a group of stones known locally as the Viking Graveyard. Most obvious as you approach is a rectangular arrangement which looks like something half-built
"Eric, away and help Thorsten with his raping and pillaging, you can crack on with this later..."
. Anyone who knows about building understands that something is clearly missing here. If these were foundations they wouldn't have supported much. So the question remains, what was it for?
Dotted around are several smaller groupings. One, maybe two (this is from memory) look like miniature (and, it must be said, ad hoc) Viking prow and stern burials. Maybe earlier visitors to Earlish, making this connection, initiated the idea of a Viking presence. Time Team where are you?
Courtesy of Geoff Holman