Balnaknock Area
Know something else about this area?
Contact ISBuC today by phone on (01470) 552223
or email
info@isbuc.co.uk
and tell us about it.
'Quiraing'
Balnaknock
Area Information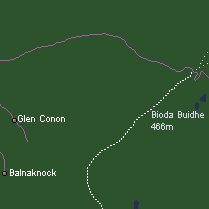 Sights
Bronze Age round house
The Fairy Glen
Walks
..
The Quiraing 1
--
The Trotternish Ridge 1


QUIRAING
(Norse: Round pen or fold)
Not so much a place, more an area, and many places to the east of the Trotternish ridge can claim to have splendid views of it.
Formed by a devastating landslip many thousands of years ago, the Quiraing is a collection of breathtaking geological formations running along the ridge for at least 2 miles. Enormous slabs, spires, boulders, cliffs and slopes complete with hidden glens and lochs can all be explored from a network of footpaths.
The photograph above was taken looking north-east from above the hairpin bend on the road leading down to Staffin.
BALNAKNOCK
(Gaelic: Town of the hill)
Home to another incredible and mysterious geological formation known locally as the Fairy Glen.
GLEN CONON
(Gaelic: Glen of the quiet river)