The Trotternish Ridge 1
'Loch Leum and Biodha Buidhe'
Start: Quiraing car park. Uig - Staffin road.
Finish: Portree
Time: 12 - 20 hours
Rating: Difficult

Balnaknock
Area Information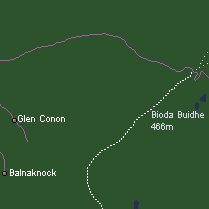 Sights
Bronze Age round house
The Fairy Glen
Walks
..
The Quiraing 1
--
The Trotternish Ridge 1


This stunning walk is best accomplished over two days. The ridge leads from the Quiraing at the northern end of Skye all the way to Portree. This description begins from the Quiraing car park but there are a number of options for the first section of the ridge (see below.) The route is mainly pathless but it basically follows the ridge, although in poor visibility this could be problematic, the huge cliff could be deadly and great care should be taken not to venture too close to the drop. The ridge is grazed by sheep and they are not fazed by the stomach lurching drop, great care should be taken when approaching, they may panic at the sight of an unexpected walker. The route may be pretty soggy underfoot, be sure to take spare dry clothes and a full set of waterproofs.
From the Quiraing car park the route heads uphill to the summit of Bioda Buidhe. This is followed by a steep descent to a wide flat area, the Bealach nan Coisichean.
Courtesy of Ella Maughan
Part 2 >>