Standing Stones
'Spitting Distance'
More sights we should see?
Contact ISBuC today by phone on (01470) 552223
or email
info@isbuc.co.uk
and show us.
Bernisdale
Area Information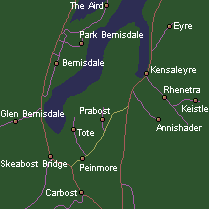 People
Saint Columba
Vikings on Skye
Sights
Standing Stones
Timelines
1500 - 1549


Skye and Raasay are littered with standing stones.
There are good examples at Kilmarie (a circle), Kilbride, Uig, Eyre (2), Borve (3) and Tote (A Pictish Symbol stone).
The picture above shows the two stones above the shore at Eyre. Legend has it that these were erected and used by Fionn and his warriors to support cooking pots and joints of meat over a large fire.