Kilmuir Area
Know something else about this area?
Contact ISBuC today by phone on (01470) 552223
or email
info@isbuc.co.uk
and tell us about it.
'Cliffs at Camas Mór'
Kilmuir
Area Information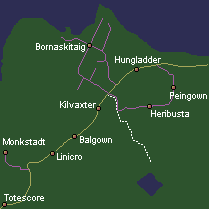 Sights
Flora MacDonald's Monument
Ruined Chapel
Walks
--
Loch Sneosdal


KILMUIR
(Gaelic: Mary's cell, church or chapel)
The district of Kilmuir stretches for 4 miles encompassing a number of smaller townships. Kilmuir stands at the edge of a large basin, an area which was drained to create new grazing land. Plans are currently being considered which propose creating a nature and history walk across the old loch bed.
The mound of an island, 'Eilean a' Loch' also known as 'Eilean Chaluim Chille', can still be seen. This is where St Columba founded a chapel which became the centre for christianity on Skye.
BALGOWN
(Gaelic: town of the smith)
BORNASKITAIG
(Norse: Low Cape)
A delightful township leading down to the shores of Camus Mor
(Gaelic: big bay)
. In recent years Bornaskitaig has appeared in a number of film productions, including a car advert, a feature film and a 'Runrig' music video in the ruined chapel.
HERIBUSTA
(Norse: Upper Town)
HUNGLADDER
(Norse: Ounce Land)
Alternatively this placename may be derived from Hung, the name of a norse prince.
KILVAXTER
(Gaelic: baker's cell, church or chapel)
LINICRO
(Gaelic: Flax field or Meadow field)
MONKSTADT
(Norse: Monks Farm}
The large house, originally a farmhouse, was developed and enlarged by the MacDonalds and became the seat of the clan chief in 1730 when they abandoned Duntulm Castle. A sign of great wealth, the building was recorded as having a slate roof as long ago as 1736, possibly the first in Skye. The Clan MacDonald stayed here until moving their headquarters to Armadale Castle in 1815.
PEINGOWN
(Gaelic: penny land of the smith)
TOTESCORE
(Norse: cleft or split rock)