Flora MacDonald's Monument
'Cross Patch'
More sights we should see?
Contact ISBuC today by phone on (01470) 552223
or email
info@isbuc.co.uk
and show us.
Kilmuir
Area Information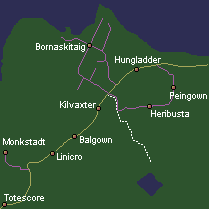 Sights
Flora MacDonald's Monument
Ruined Chapel
Walks
--
Loch Sneosdal


On every serious site-seeing itinerary, Flora Macdonald's monument stands in picturesque Kilmuir Cemetery. The views here on a clear day stretch to the Outer Hebrides and a Trotternish sunset is not to be missed.
To reach the graveyard go to the sprawling area of Kilmuir, then find the turning for Heribusta. If you are coming from Uig this is the right turn about one mile on from the village hall. From Duntulm it is about two and a half miles and the first left turn. It is within easy walking distance of the main road if you are using the local bus.