Loch Sneosdal
'Approaching the Loch'
Start: Kilmuir Hall car-park
Finish: Start
Time: 2 - 4 hours
Rating: Moderate

Kilmuir
Area Information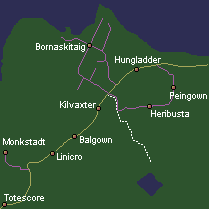 Sights
Flora MacDonald's Monument
Ruined Chapel
Walks
--
Loch Sneosdal


Starting by Kilmuir Hall, and the convenient bus-stop, follow the road away from the main road and up the hill for about one kilometer. There is a gate at a sharp bend in the road with a rough track leading up and around the hill.
I love this walk as the route and the destination have a wild, "far from the madding crowd" feel to them. The loch is a delightful surprise, even after numerous visits there.
Initially the track takes you fairly steeply uphill, then it flattens out and meanders towards the steep cliffs above Sneosdal. The track peters out about a few hundred metres from the loch. Head towards the large cliffs on your right. Some of the ground is very wet and uneven on this stretch so walk with care. To return to Kilmuir simply retrace your steps.
Courtesy of Ella Maughan