Ruined Chapel
'Saved by Sight of Site'
More sights we should see?
Contact ISBuC today by phone on (01470) 552223
or email
info@isbuc.co.uk
and show us.
Kilmuir
Area Information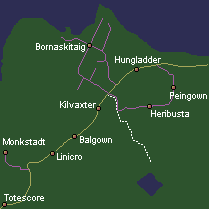 Sights
Flora MacDonald's Monument
Ruined Chapel
Walks
--
Loch Sneosdal


This strange ruin survives because of its commanding position and its proximity to the coast. It is used as a navigational aid by shipping in the Minch.
It was also the setting for the last Runrig video with Donnie Munro as lead singer, after which he left to pursue a career in politics. Those in the know will recognise the hand silhouette painted on the wall inside the ruin.