Dun Tom na h-Uraich
'I think it says OH'
More sights we should see?
Contact ISBuC today by phone on (01470) 552223
or email
info@isbuc.co.uk
and show us.
Kilmaluag
Area Information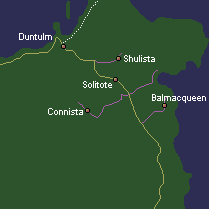 Sights
Dun Tom na h-Uraich
Duntulm Castle
Kilmaluag Stones
RAF Kendram
Walks
..
Rubha Hunish 1


If ever you're up at the old RAF Kendram radar station, drinking in the splendid vista from Torridon to South Harris, spare a while to view this lesser known Iron Age promontory enclosure. After more than
4,000
years of erosion the site is now in an extremely precipitous condition (please be careful!) about 200 yards along the cliff to the north west of the radar block.
The top picture is of the dwelling, which is circular. There's also evidence of fortification on the landward edge of an ellipsoid enclosure and, below that (outside the cliff fence) a terraced area which may or may not be associated.
Pictured from the dun are two stane dykes (image enhanced) which sweep up to the site. At their closest they are linked by a dyke in which there could have been a gate. This arrangement may have been to facilitate the driving of precious livestock into a secure pen at night or in case of attack. However, the idea must remain the theory of an archaeological amateur and should not be given too much credence!
Courtesy of Geoff Holman