RAF Kendram
'It's a radar, love'
More sights we should see?
Contact ISBuC today by phone on (01470) 552223
or email
info@isbuc.co.uk
and show us.
Kilmaluag
Area Information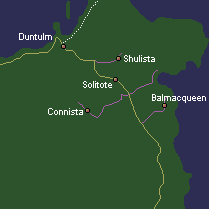 Sights
Dun Tom na h-Uraich
Duntulm Castle
Kilmaluag Stones
RAF Kendram
Walks
..
Rubha Hunish 1


Timelines
The imposing cliff-top structure between Flodigarry and Kilmaluag is no ancient hill fort but the exoskeleton of RAF Kendram, known by an Air Ministry innocent of Tippex or WP software as RAF Kendrom. This was a Chain Home Low radar station built in the late
1940
s as part of an extended network to protect the UK.
The solid stone walls, enclosing a concrete floor, never had a roof. Instead a prefabricated building was erected inside to house radar equipment and operators. The walls seen today protected a timber shed against weather and possible bomb blast. Still to be seen are radio mast anchor points - HF radio being the means by which the station communicated with Stornoway sector station.
Several concrete foundations are visible lower down the slope and by the road is the old generator house. The entire camp extended as far as the Kilmaluag River, where an old pump house now serves as a store. A section of asbestos pipe which carried water to the main site is still visible, if you know where to look. Also extant is the motor pool building and associated concrete plinths.
At least one, and maybe more, Kendram RAF personnel billeted locally married local girls and settled down.
Courtesy of Geoff Holman